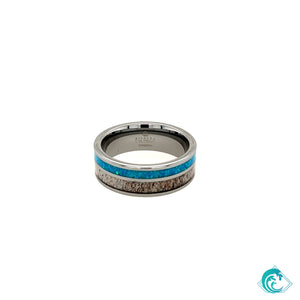 8mm Tungsten Antler & Opal Band
Regular price
$900.00
$0.00
Unit price
per
Flat Tungsten band, all high polish with a 3mm antler inlay and a 2mm opal inlay.
Our antler is sourced from shards that are naturally shed/fallen off the animal!
Size 10 (May be custom ordered in other sizes. Message us to place order.)
Tungsten is the hardest, most scratch resistant material on the market.  We offer Tungsten in its natural color, which is a dark gun metal gray.  Tungsten is alloyed with a nickel base to offer the permanent high polish finish.  When purchasing a Tungsten band, be sure to buy from a reputable manufacturer, because there are a lot of quality control issues with overseas Tungsten producers.  Tungsten, like Vitalium- has limitations on capabilities because of its hardness.  Tungsten can be removed with vice-grips in case of emergency.  Tungsten carbide is often used in tooling and grinding.
---